Book of the Week: Celebrating the Olympics
The 2012 Olympics will begin on Friday July 27th in London, England.  In celebration, here are some great resources at Purchase College Library and online that will get you in the Olympic spirit.
Meet Team USA: 
This is the official online guide to the American Olympic athletes.  Search by season, sport, or name.  http://www.teamusa.org/Athletes.aspx.  You can also see schedules, medal counts, video clips, and the Opening Ceremonies at http://www.nbcolympics.com/index.html
Olympics in Art:
Games for the gods : the Greek athlete and the Olympic spirit
/ John J. Herrmann, Jr. and Christine Kondoleon ; with a foreword by Bill Littlefield.
Call Number:  Main Stacks (2nd floor) N8250 .H47 2004
Learn about the origins of the Greek Olympics and its depictions in art and artifacts by reading this book, which includes historical information about the earliest Games as well as great images.
Olympic portraits / Annie Leibovitz.
Call Number: Main Stacks (2nd floor)  TR680 .L54 1996
See Annie Leibowitz's take on the athletic portrait in her photography of the 1996 U.S. Olympic team.
Political Aspects of the Olympics: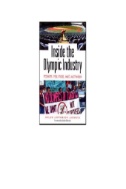 Inside the Olympic industry: power, politics, and activism/ Helen Jefferson Lenskyj ; foreword by Varda Burstyn.ONLINE RESOURCE. Click here to view. eBook
Learn about the dark side of the Olympics including: negative economic impacts on recent host cities, how Olympic host cities are chosen, bribery investigations, grassroots resistance movements, and the role of the mass media in perpetuating Olympic hype.
Olympics and Ethics:
Modern sports ethics : a reference handbook
/ Angela Lumpkin.
This recent reference resource on ethics in sports includes chapters on doping, gambling, youth sports, racism in sports, the Olympics, and more. (Great place to start if you are researching topics on sports and society for a class assignment.)
Olympics on Film:
Olympia [videorecording] / Leni Riefenstahl.
A classic sports film– or classic Nazi propaganda?  This 1938 documentary follows the Berlin Olympics of 1936 and was the first film of the Olympics ever made. It was directed by Leni Riefenstahl, a female cinematographer with ties to the Third Reich. For interesting background on this film, see this article from The Sport Journal.
Chariots of fire [videorecording]/directed by  Hugh Hudson.
Classic 1981 feature film about two young British sprinters competing for fame in the 1924 Olympics.  Eric, a devout Christian missionary, runs for religious reasons while  Harold, who is Jewish, runs to prove his place in Cambridge society.